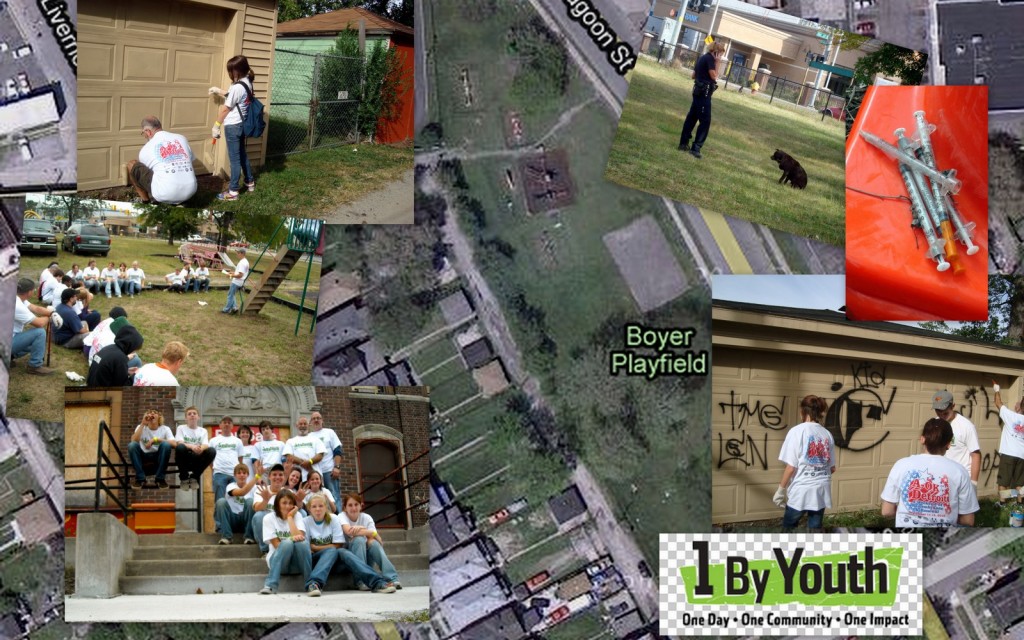 Last week i took 9 students and 4 adults to southwest detroit to take part in  a 1 day of serving.  this is a new program from the folks at Group Cares.  The mission of…
1 By Youth™ unites youth groups to SERVE people in need and TRANSFORM entire neighborhoods… …IN ONE DAY!
we joined up with the other 500 + volunteers and got our assignments.  We were partnered with Pastor Justin and his students from Mt Hope Congregational Church in nearby Lavonia, MI.  Our serving site was Boyer Playfield at the insection of Vernor and Dragoon about 10 blocks from our rallying point, Clark Park.  Our task for the day was to clean & paint Boyer Play area, a local neighborhood park.  The task's included painting over graffiti on local garages and fences that faced the park, trimming overgrown bushes and some landscaping.  The whole day was a stretch for all of us…that started from the moment we left at 5am and continued even after we arrived at our work site.
the first thing we encountered was a sickly pit bull who had a fighting collar on.  our site supervisor contacted the animal cruelty department, who upon arrival determined that the dog had been shot.  the dog looked haggard and it was a sad sight.  there was a pit bull next to the park that was actually padlocked to its chain.  it was good to see the students immediately step into the task and made quick work of the listed tasks.  During the cleanup the students found 5 used drug syringes, which was just one more indication of the brokenness of the neighborhood.
We were reminded of the key verse for the day from Matt 5:14-16 about letting our good deeds be a shining light.  To that end early in the our efforts a young man named Atoro approached and asked how he could join in our serving.  he was a local construction worker and readily offered his strength and his tools to help clear the heavily overgrown brush around the park perimeter.
During our lunch we spent some time doing some debriefing and reflecting again on Matt 5:14-16.  One thing that was very noticeable about our work site, that although it was a park…there wasn't any children present.  as our final act we gather is a prayer circle and prayed over the ground upon which we were standing and for those that would be served by the park.
this was  a great one day event for our students and adult leaders.  the  1 by youth team was excellent and the whole experience was a great investment.  if you get in early the cost is $29.  I'm not sure about their other venues offered, but the detroit experience offered the added weight of being on the 9th anniversary of 9/11. So there was an extended partnership with local community development folks. We were told by many of the locals how blessed they were that our group would drive 3 hours to serve them. it was also good to see the city come together and join efforts to impact this neighborhood. the only disappointment to the day was the rain which forced the cancellation of a block party. it should be mentioned that the rain stopped the party…but not the the students…they all refused to come in from their tasks and just kept working.
here's the wrap-up video of our effort.

EVO: Mission Detroit- 1 by Youth – 9.11.10 from nhloud video messages and media on Vimeo.