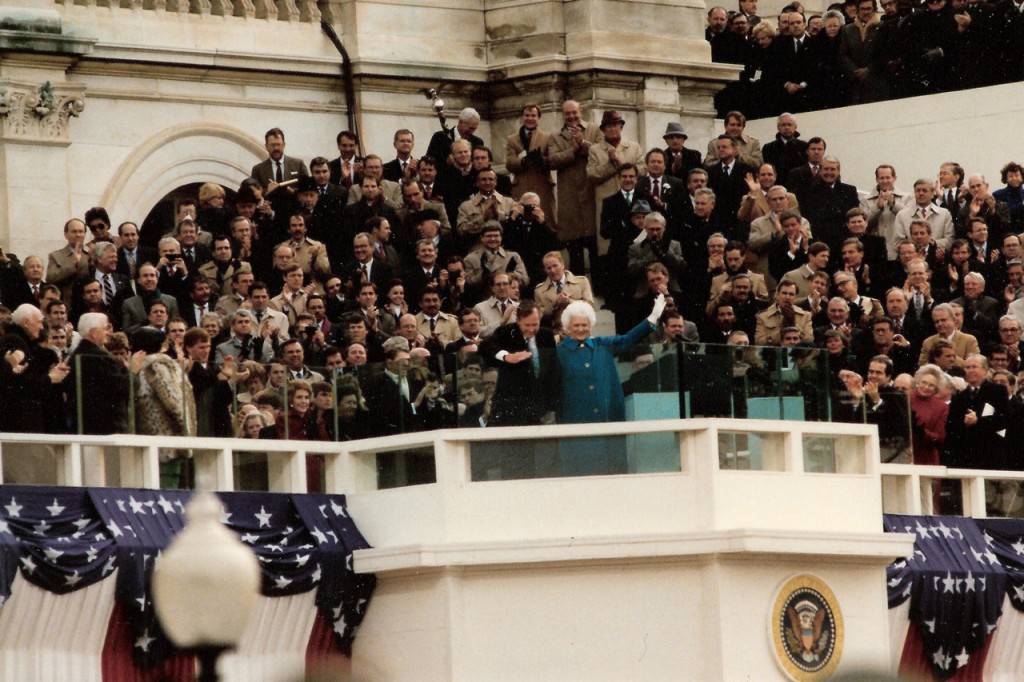 during the busyness of the day we stopped in the office long enough to take in the historic precedings in our nation's capital. what we saw was impressive on many different fronts.  i love that in our country we can have the orderly transition from one adminstration to the next.  i am troubled by the cost of events of this nature and wonder if the $145 million plus could be put to better use.  but that's just the way we do it.  had a chance to talk some with our youngest tonite about a similar event that rose and i attended with our first born in jan '89.  i had worked hard for then governor george voniovich and that resulted in our being invited to attend such a historic event.  i love this picture just after then president bush (41) completed his speech.  his reaching over the protective to wave to those below.  if you look closely you can see president reagan (my hero) and his bride nancy reagan. vice president quayle (remember him?) and his bride marliyn are also there.  i remember that we weren't able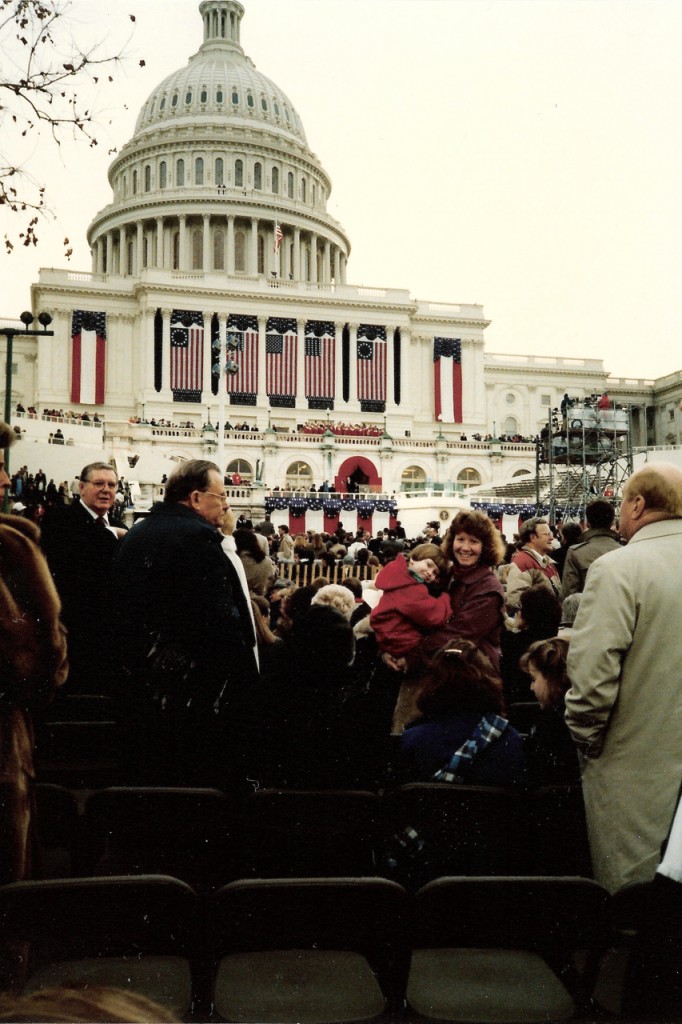 to get seats that adjoined so rose and sarai sat up closer in section 9.  here's a great picture of these beautiful ladies.  i can only guess at the excitement of those in attendance today.   president obama said many encouraging things in his inaugural address.  and i greatly appreciated pastor rick's invocation particularly his using the hebrew sh'ma.
(Source: Christianity Today)

Let us pray.

Almighty God, our Father, everything we see and everything we can't see exists because of you alone. It all comes from you. It all belongs to you. It all exists for your glory.

History is your story. The Scripture tells us, "Hear O Israel, the Lord is our God. The Lord is One." And you are the compassionate and merciful one. And you are loving to everyone you have made.

Now, today, we rejoice not only in America's peaceful transfer of power for the 44th time. We celebrate a hingepoint of history with the inauguration of our first African American president of the United States. We are so grateful to live in this land, a land of unequaled possibility, where the son of an African immigrant can rise to the highest level of our leadership. And we know today that Dr. King and a great cloud of witnesses are shouting in heaven.Give to our new President, Barack Obama, the wisdom to lead us with humility, the courage to lead us with integrity, the compassion to lead us with generosity. Bless and protect him, his family, Vice President Biden, the cabinet, and every one of our freely elected leaders.

Help us, O God, to remember that we are Americans, united not by race, or religion, or blood, but to our commitment to freedom and justice for all. When we focus on ourselves, when we fight each other, when we forget you, forgive us. When we presume that our greatness and our prosperity is ours alone, forgive us. When we fail to treat our fellow human beings and all the earth with the respect that they deserve, forgive us. And as we face these difficult days ahead, may we have a new birth of clarity in our aims, responsibility in our actions, humility in our approaches, and civility in our attitudes, even when we differ.

Help us to share, to serve and to seek the common good of all. May all people of good will today join together to work for a more just, a more healthy and a more prosperous nation and a peaceful planet. And may we never forget that one day all nations and all people will stand accountable before you. We now commit our new president and his wife, Michelle and his daughters, Malia and Sasha, into your loving care.

I humbly ask this in the name of the one who changed my life, Yeshua, Isa, Jesus [Spanish pronunciation], Jesus, who taught us to pray:

"Our Father, who art in heaven, hallowed be thy name. Thy kingdom come. Thy will be done on earth as it is in heaven. Give us this day our daily bread and forgive us our trespasses as we forgive those who trespass against us. And lead us not into temptation, but deliver us from evil. For thine is the kingdom and the power and the glory forever. Amen."
and the closing remarks from president obama himself.  i pray that God's blesses his steps and actions.
So let us mark this day with remembrance, of who we are and how far we have traveled. In the year of America's birth, in the coldest of months, a small band of patriots huddled by dying campfires on the shores of an icy river. The capital was abandoned. The enemy was advancing. The snow was stained with blood. At a moment when the outcome of our revolution was most in doubt, the father of our nation ordered these words be read to the people:

"Let it be told to the future world … that in the depth of winter, when nothing but hope and virtue could survive…that the city and the country, alarmed at one common danger, came forth to meet (it)."

America, in the face of our common dangers, in this winter of our hardship, let us remember these timeless words. With hope and virtue, let us brave once more the icy currents, and endure what storms may come. Let it be said by our children's children that when we were tested we refused to let this journey end, that we did not turn back nor did we falter; and with eyes fixed on the horizon and God's grace upon us, we carried forth that great gift of freedom and delivered it safely to future generations.