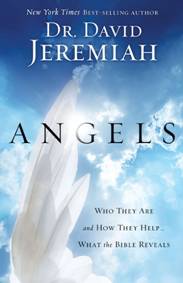 In a 2008 survey of USA's religious beliefs and practices found that  55% of all adults — including one in five of those who say they have no religion — believe they have been protected from harm by a guardian angel.  An interesting thought.
Dr. David Jeremiah is one of my spiritual heroes.  i've enjoyed hearing him preach, teach and especially have enjoyed his writing.  I've enjoyed reading one of his newest titles: Angels: Who they are and How they help…What the Bible reveals. Dr. Jeremiah tackles all the details of where angels come from. what their purpose is and even wrestles with  helping us understand the concept of guardian angels.  Seems almost providential as the
The book is a great read.  Its easy and there's lots of great elements that he helps the reader wrestle through, even the concept of fallen angels and satan's role in the whole created order.
One good take away for me came in chapter 11, entitled Showing us how to work.  Here's a clip:
Calvin reflects the "in accommodation to us," "Scripture has shown us the wings of seraphim and cherubim "to assure us that when occasion requires they will hasten to our aid with incredible swiftness, winging their way to us with the speed of lightning."….God can count on them, and so can we.  There's no sloppy workmanship or laziness or negligence on their part….When David summons the angels to praise God in Psalm 103, he call the 'you mighty ones who do his bidding, who obey his word…you his servants who do his will."
In talking about guardian angels, Jeremiah is quick to tell a boyhood story that almost secures the idea of "something" that kept him from harm so that he could pastor, minister and even right this book.
The good folks at Multnomah/Random House have provided me the review copy and an additional copy to give away.  Please leave your name, email and a comment (if you like) about how a "guardian angel" has intervened in your story, to allow you to continue as part of the Story.  I'll draw a random name on Wed, Feb 10th. and get it to you.
I've learned some interesting insights from reading this book the least of which is "that angels truly love the Lord, and will always love to serve him"…and so like Dr. Jeremiah, will I.
Great Read! I'd encourage you to Get it.
Review Grade:  A