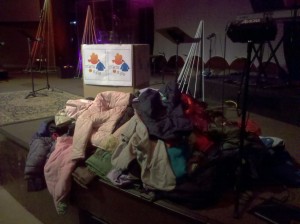 Today in big church our kid's ministry brought to the stage the coats that they had collected over that past two weeks.  It  was a cool sight to see the kids bring their donations in this morning and dropped in the boxes…and even cooler the reception that got as they present them on the stage…and then offered a prayer of blessing over them…60 coats were collected.
So Luke writes…
But Jesus called the children to him and said, "Let the little children come to me, and do not hinder them, for the kingdom of God belongs to such as these. I tell you the truth, anyone who will not receive the kingdom of God like a little child will never enter it."    ~Luke 18:16-17
how the children teach us…about what the Kingdom should look like.  Then today on facebook one of my students suggested i should look at the a video from a certian teen-idol type singer…justin bieber.  well…i've heard of the young man and have actually seen him a couple of times on the tube.  I know that perhaps maybe this video is just a "marketing" thing…but this video has impact.  and to think that its gotten over 3.4 million hits in less than a week suggests that there's something here beyond marketing.  enjoy…and when its over…pray for this young man, that he would journey well in the midst of fame and stardom…and by the way…i just became the 16,441,776th person to like him on facebook.