loving the email from simply youth this morning.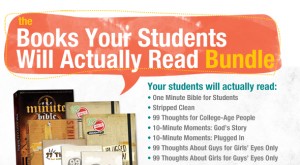 beyond the great deal…they've got a promo that includes a picture from our outpost.  cool thing is one of the guys pictured was at saddleback last year with me for the student leadership conference and is now finishing up week 5 as a camp counselor here locally.  and our students are headed off to camp next week .
but if you've been to summer camp already, simply is looking for your best pictures and if you got the winning one you'll grab 5 sets of the "books your students will actually read" bundle.  so send your entries here.  pretty cool!