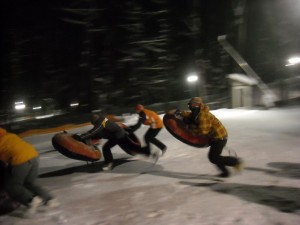 been a real crazy week and its ended with a 4.5 hour motorcoach (buses are for greyhound!)ride to clymer, ny for our ski trip at peaknpeak.  four adults and 17 youth are having a great time.  it was a little dicey on the trip over…everything was fine until we were about 35 miles out and then lots of black ice and blowing snow.  that almost made us miss our time at tubing.  then when we got here they had closed out the ticketing station, even though we have reservations…it was cold…and the workers wanted to finish up.  but once they heard our plight they worked around the process and we had a great 25 minutes…which was more than enough in -10 degree weather.  it was brutual but a lot of fun.
this road trip has taken a lot to pull together…much thanks goes to my co-laborer and ski club advisor, josh miller.
road trips like this are great connecting and community building events.  i wish they weren't so expensive to make happen, but they worth the investment.  on this particular trip there's been some re-connection with some youth who have been sort mia from our program.  they bailed because of the messines of a transtion a few years ago.  one of the things i really dislike about doing ministry.  leaders need to spend as much time thinking about the exit strategy in ministry as they do about the  starting.  i've found it literally can take years to rebuild relationships that are fractured and broken because things are thought out well enough.   not sure i'm going to take the board plunge here.  its fun just to watch the students have fun.  i did do some practice a week ago at our dog sled nite just in case.  it was pretty…but i made it down the bunny hill.  more later….back to my rasbery mocha latte.