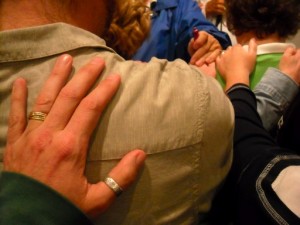 for the next three days i'm heading off on another adventure of sorts.  i'll be serving as a assistant spiritual director on epiphany weekend inside the mohican juvenile corrections facility.  this is  my third time serving on an epiphany, the second in mohican and my first as a spiritual director.
tonite the team gathered at a local campground to be commissioned and sent off on this Kingdom excursion.  the model is an amazing concept and i know has and will provide a major turning point in the lives of the 25 young men who the team of 40 adults will be walking with.
i was reminded tonight during the commissioning service that story from matthew 25:42 where Jesus talks about our serving and loving him by visiting those in prison.  it is so true.
the model for epiphany is centered around the metaphor of a "star".  the idea being that each star in the heavens is created unique…so are each of us including those that are in jail.   the message for each of our new young friends will be that God has purposed them in to existence and we are there to encourage them to find out what that means.
over the three days will be sitting at tables as new families. since most of these young men come from homes where i'm almost certain there wasn't a common table where as a family, life can take place.
so pray for our journey…some 25 young men including a new friend tayrone.  pray that we would be faithful to the task…and inspite of our limitations, God will show up and work in their lives…ours too!