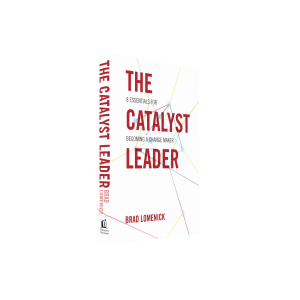 If you LEAD,  you need to know about a new book that was released last week…the Catalyst Leader
The Catalyst Leader (purchase here) authored by Brad Lomenick is a game changing leadership book.  Brad has more than 20 years of leadership experience.  For the  last 10 years his experience as the president and lead visionary of Catalyst has leveraged the Kingdom in and through so many.
In this new work Brad maps out 8 essentials for becoming a change maker. Ultimately identifying the essentials of a Catalyst Leader needed for leading well, and leading now.
I'll give you a quick overview/tease of what those 8 essentials are:
Calling: discover God's unique calling on your life
Authenticity: embrace your true identity and share it with others
Passion: develop an insatiable hunger for a vibrant relationship with God
Capable: chase after a level of excellence that will stretch you and astonish others
Courageous: learn to push through fear and take risks
Principled: root yourself in unchanging principles rather than shifting circumstances
Hopeful: create and cast a compelling vision for the future
Collaborative: build bridges with others for the purpose of learning and cooperating
I love that Brad starts with the idea of "calling" and think his definition is dead on.
What is Calling? "God's personal invitation for me to work on His agenda, using the talents I've been given in ways that are eternally significant."
I've listened and read Brad for years.  If you don't know him, this podcast about the new book is a great introduction to his heart and passion to equip leaders.  If you didn't know, the organization he leads, Catalyst is a experiential and creative leadership movement that has been going on for now almost 14 years.  They offer several conferences around the country annually and from my perspective  the are one of the best organizations today that is challenging the local church to think outside of the box.  The Catalyst Leader blog is worth the follow too.
Here's a quick video about the book:

Readers should note that as a special bonus-anyone who purchases the book this week, from April 22-26, scan and send your receipt to catalystleaderbook@gmail.com and you'll receive over $300 of leadership resources for FREE, all for simply purchasing the book during this week from any outlet, including the Catalyst store as well as other retail outlets.
I can tell you that for Catalyst, leadership development is at the heart of what they do, and so this book is simply a leadership manifesto based on stories – from Brad's personal leadership to his interaction with the incredible men and women who have been part of Catalyst over the years and finally the result of many interactions with those on the front lines of leading churches and non-profits.
The true reality is that all of us want to be a great leader, but many times we're not sure how to build in the essentials in a way that will deliver the most impact in our own leadership, and in the teams and organizations we lead. This book will help you do just that.
You may be recognized as a leader, but that doesn't mean you are influencing well and truly making a difference.  This book will help shape and direct your abilities and capacity.
(note: i did get an advance ebook copy of the catalyst leader for the purpose of this review.)