Podcast: Play in new window | Download | Embed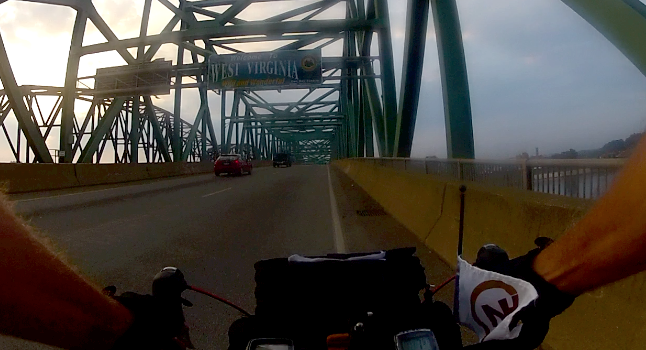 (note: we didn't have good internet access during most of the ride, so over the next week i'll be adding videos and thots from our 500 mile adventure.)
started out day three in Belpre, OH.  Got up early- 4am, took a quick shower and then hopped on the phone for an interview with Mark Zimmerman from WCRF-Moody Cleveland. (Podcast link above).  If i sound tired…i am.  The heat was amazing repressive on day 2 and I was still in recovery mode.  It was a good ride out of Parkersburg.  The sweeps got a little lost navigating the crazy downtown streets.  Took a shortcut through the beautiful Historic District before we finally joined up with the rest of the team.  We had to pull over due to some thunderstorms and lightning.  We took time to pray for a sorority sister of our Co-Tour Director Emily Brown and for Anne Jackson.  Both were having surgery. Anne is a Venture Expeditions alumn.  Today added some riding time with our partner Rich Dixon.  We meet another Richard…a student from Colorado State who was working on a term paper.  He's been hiking across the country and was heading back to school.  He was traveling with a new puppy –  a cross between a blue tic hound and an coyote.
Another storm blew up and forced us to shuttle the remaining distance into Bridgeport, WV.