here's a few minutes from the last large session at nymc in columbus. i sat in greg stier's super session on deep and wide ministry. i love greg's heart…his passion to connect the broken to the saving message of the Gospel is contagious. dare2share's current programming theme is "shreddin the gnar" which is surferese for go BIG or go home!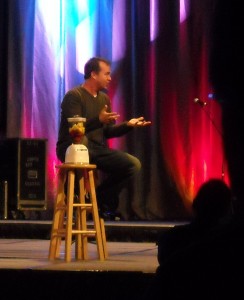 the rest of the clip is from the final worship segment with tim timmons. i've already said what an amazing heart tim has. the words to the grateful really resonated with me.  the mixing of hymns in a modern worship style was fun and a blessing.
i was grateful for doug field's final words helping us to be fruitful by remembering the importance of our hearts.  i love his heart on this stuff, but his encouragement comes straight from his own journey.  he was quick to share that to be really fruitful in ministry we need to simply practice the presence of God daily by talking with Him at every available moment and to always pray for wisdom. good stuff.
next year the conference will be in chicago near o'hare…and the conference will morph a little to simply youth ministry conference (#symc).