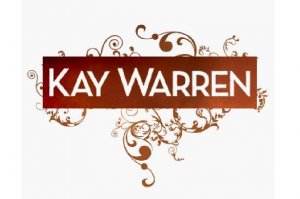 you may remember a few weeks back, chazzdaddy and i spent some time on the west coast for the pd summit. one of the briefings we were part of was a late afternoon conversation with kay warren about how the church could impact the global hiv/aids crisis. (www.hivandthechurch.com)
today i had the chance to spend about 40 minutes on a webinar with kay herself and few others (like 4) talking about the "how to" of an outreach ministry to those impacted by hiv/aids. i love kay's heart for this stuff. we heard her last summer at the slc '07 and it was great. kay is real, just as real as her best friend and husband so it was an extended blessing to chat for awhile. i've done alot of this webinar things, but never one quite as good as todays. one take away on leadership i'd like to share…and i think i've got his right, kay said…"leadership is about taking (our) people where they don't know they can go". sounds like a good title to a book. i've seen alot of that lately. folks who are being asked to step up and they do and all of sudden they realize they're impacting others for the kingdom. very encouraging stuff.
got to admit that getting to the call was little bit of a journey. first on their end they had to change the time, which then created a issue on mine. so i decided to take the call at home and thought i'd use skype to do the phone part. first i couldn't get it connected because i couldn't key the code quick enough before it would time out then i had to run and grab emmah from the bus. but even being a little late, kay was gracious to invite me in to the conversation. just another step into the larger story. fun stuff.