this is cool. so we were looking for a partnering ministry to invest for clean water in 3rd world nations. recently i learned about the persecution project.  we recently mailed them our advent conspiracy offering for clean water.
first it was really cool last week to get a phone call from ed lyons to thank us for the gift. (note: he called to say thank you because we were a first time donor. he wanted to know our story and how we found them.) we had been supporting another ministry, but we could never get an accounting or update as to how our monies were being invested and the difference we were making. so you can imagine our surprise when ed called.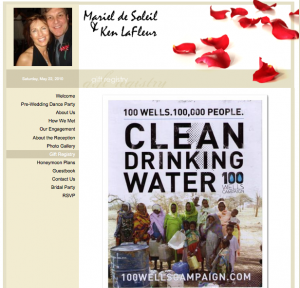 that call has begun a new friendship. we were able to share this past week in big church how our monies have made a differnce. ed had sent some great video and shared some stories that have put faces to our investment.
but the story has taken another turn as ed and his team are directing the 100 wells campaign.  got an email from ed today where he shared how our investment has been leveraged.  it seems there's a couple, soon to be married, mariel and ken.  read this clip.
spoke with a bride-to-be in Michigan late last week. Instead of receiving wedding gifts, she and her fiancé decided to sponsor a well in Sudan through PPF. She was uncertain if her guests would raise enough money for one well, however, so I mentioned the gift from your church. She then got very excited and said that she thought she'd be able to raise…by adding her gift to yours, we'll be able to complete another well.
click on the image to go to mariel and ken's website.  click on gift registry and see how they've taken a very cool approach and partnered with us as we partner with 100 wells campaign.  ….let's do it!