with Valentine's Day around the corner…thought this would be a good time to post this book review.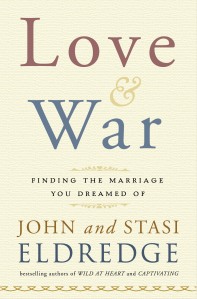 Love & War: Find the Marriage you've Dreamed of
I confess i'm biased to anything john eldredge writes. i'm grateful for his open and honest engagement of issues that are critical to understanding our journey, as men and women through the Story. so now we've a book co-authored by John and his delightful bride Stasi looking at the institution of marriage. and Its a definite winner. The book is their sharing in authentic, open and transparent ways about this larger "love story" we a?ll live in…they write:
We live in a love story, set in the midst of war. Love is our destiny, and all hell is set against it. Really it explains so much. We wake each morning and fin that we have to fight our way back to all that is true: we have to fight off the thousands of reasons to settle for less than the life we were created for. Our bodies awaken but then our hearts and souls must awaken too, so that we might play our part in the Grand Affair. And God has made our hearts in such a way that nothing awakens us quite like some great mission which is ours alone to fulfill. Thus the power of fairy tales, all of which turn on this awakening in the heart of the boy and girl.
This book is an excellent read. There is something here that is deep and good. Stasi and John are transparent beyond measure and their risking vulnerability is a huge encouragement to the reader. The reminder of how hard life can be and particularly the difficulty of loving another person in the context of marriage is very real.
Walking through their own struggles and pointing some practical remedies on loving our spouses well. One helpful insight is in the area of spiritual warfare…a reminder that we truly do live in a world that is at "war" and that there is more afoot than what we see.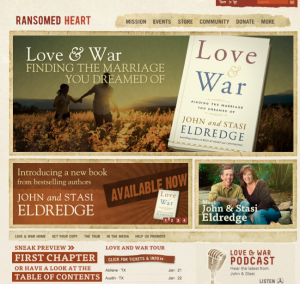 Along with the book is soon to be released dvd based study. There's also a useful website that offers a weekly podcast and other information . The Q&A from the book tour (which begins its second leg this weekend) offers some great insights.
Personally, i've seen the end result of the honesty of John's and Staci's writing in the lives of literally dozens of men and women who are better understanding their walk as Christ followers.
Love & War is book that you'll want to re-read a couple of times. Much like the Eldredge's earlier efforts…Wild at Heart, Captivating, et.al. you'll learn something new each time.
While reading Love and War this week I used a question that is quoted in the book from C.S. Lewis with a couple young men in an at-risk group i lead. That question was "would you rather have Eros or Compansionship?" I was pleasantly surprised by the response that the young men, after pondering it…said "companionship."  Although "eros" was something the liked…there's was something deeper they needed.  Both young men come from circumstances where their place in the story was begun out of "eros". They realize the deeper disconnect that exists when we get the family thing out of order (i.e.sex – pregnancy – marriage).
I need to remind you that Love & War was graciously provided for review by Waterbrook Multmonah. You can purchase the book via their website here.
Yep… Get it…Buy it…Read it…Live it! Definitely A+.