together, my bride melinda and i have been talking alot about marriage.  not ours directly, but we have reflected on it, but on the state of marriage in our spiritual community. whether we look at those she and i walk with, students, or even the adults in our small group, it is amazing to us the ongoing assaults that continue to roll towards this blessed state. it seems almost paradoxical that in the midst of a teaching series…40 days of love, that the destruction of love is in every camp in which we walk and live.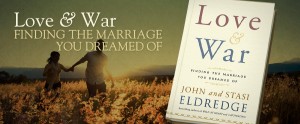 it seems very timely that my pal john eldredge and his bride stasi have written a book that takes the message of freedom and offers to the most challenged institution in the world.
together they offer a reminder that marriage is an amazing tension… rich & good and hard . so grateful for them to have taken on this task.  the book is due out on december 15th.
click on the image to go to the web page and learn more.  there's a very good podcast on itunes here.