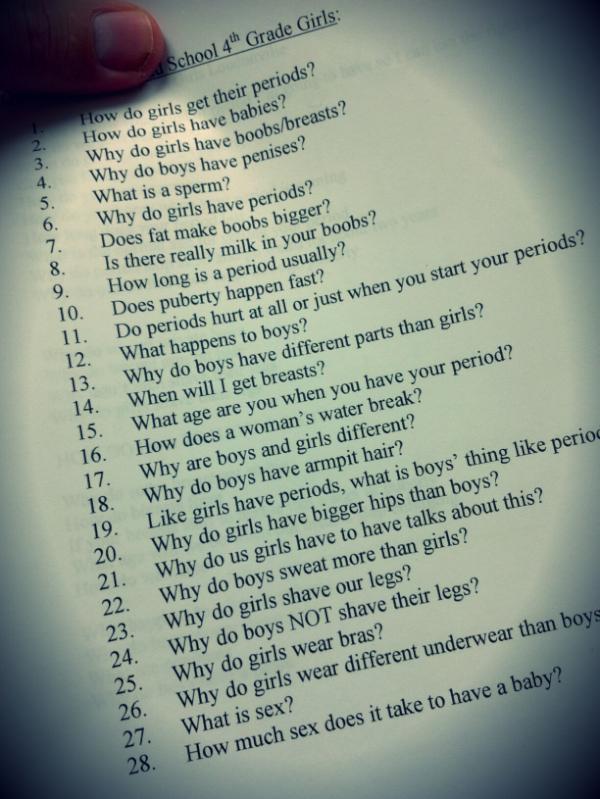 continuing to think alot about the impact of our culture on our teens.  i spent the weekend at an incredible overnite event called "changers" with a group of 150 middlesschoolers.  they had amazing energy and an even more amazing desire to find their place in the larger Story. in one of our final "family"sessions we had the students write letters to themselves that will be mailed in the future to them.  the letters were to be an "ebenezeer" of sorts to remind them of what ways they think they can impact the world.  cool stuff…they took a long time…and it was cool to watch them turn over their paper to write on the back.  lots of impact for sure.
but there's a tension that becomes apparent when one studies the list in the photo of questions recently submitted by the 4th graders at a local elementary school of questions they want answers to that they are afraid to ask their parents about.  wow.
in a recent email from a Kingdom ally the following thots were posed…
What is our generation's legacy?  What do we want it to be?  As a generalization we've given to the world:

Divorce is an easy, acceptable, pragmatic even preferred option.
The family structure as optional, "Hey, the kids are strong. They can handle it." Right.
Selfishness justifies anything.
Science trumps wisdom (when in truth it validates it).
Godlessness trumps truth.
Youth, ripped, endless sex, rock and roll, and money are our Gods.
Self-indulgence is foundational: It is our right.
Abortion is an assumed right. It is the foundation of any compassionate, rational human being.
Abstinence is impractical, foolish, it is downright uncool. Holiness is ridiculous.
The world is to be worshipped (mother earth) as infants are murdered.
Terrorists are terrorists unless they kill Christians, then it is not newsworthy.
We deserve everything. We are accountable for nothing.
We wil never age, nor lose our sex appeal, nor die.
It is better to know more about the Khardasians, Survivor and other reality shows than it is to know our God.
Good is bad, and bad is good.
my friend goes on to ask:
Why are the kids the way they are? Who has guided them? Who will guide them?
and then offers this word from God:
"He who overcomes will inherit these things, and I will be his God and he will be My son. But for the cowardly and unbelieving and abominable and murderers and immoral persons and sorcerers and idolaters and all liars, their part will be in the lake that burns with fire and brimstone, which is the second death." [Rev 21:7-8]
and then states
The "cowardly" . . . Thanks to all that have turned and are walking with Christ to make a difference.  Forgive me for when I don't.  Who will stand and say, "The legacy must change!"  Who is still so trapped by the world that they are no earthly good because they are too encumbered by this earth? I am not throwing stones; I am letting you see the questions exploding in my own heart.
wondering now in my own mind where to chart the course to helping 4th graders ask different questions.  your thoughts?