Above all, we must realize that no arsenal, or no weapon in the arsenals of the world, is so formidable as the will and moral courage of free men and women. It is a weapon our adversaries in today's world do not have ~president ronald reagan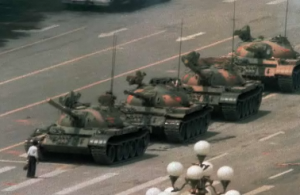 i'm reminded this morning that 20 years ago this day was the pro-democracy protests in China's Tiananmen Square where literally thousands of nationals were killed for standing up to tyranny of the worst kind.  and although in the passing of the decades it seems as those things have improved there are still stories of unbelievable oppression.
i had the privilege of hosting a few of those students who stood so bravely for true freedom in early 1990 at a forum at the college.  i remember so clearly how grateul they were for the united states and the principles for which we stand…they saw our land as the best hope for the world.
i remember a discussion with our friends…that technology played a huge role in 7 weeks of protest.  at that time the fax machine played a key part of communicating movements and direction of the protesting students.  today its social networking sites like facebook and twitter.  i've added this twitter search to help show what's happening right now…
there is much to be learned even 20 years since. for those across the ocean and also for us as a nation as we are watching and seeing unprecedented actions unfold in our halls of government.  we need to remember.
this video from the washington post i think speaks well of what is at stake. good story here too.

there is much at stake. we have much to learn.