Was saddened this morning to hear of the passing of Richard Dauch.  He was the co-founder of American Axle.  The press reports this morning said he died of cancer.  He was 71.  He was one of many captains of industry that I've had the pleasure of meeting.  I actually was able to spend a day with him in 2004.  He had invited me and a few others from a local church to visit and to present a proposal for his consideration.
I remember arriving at the headquarters near downtown Detroit.  I remember sitting the main lobby as his bride, Sandy arrived prior to our appointment time.  I had learned from a good friend that she had a fancy for Jones potato chips…so i brought two boxes.  She quickly summoned a security person to take our valuable gift and keep it safe til she was ready to head home.
They had just finished the construction of an impressive 7 story building that was the corporate headquarters for American Axle.  As we talked about the building she shared about the work to build it.  As we were there to ask for their support for another building project I thought it was interesting that she shared how their budget for the year had been spent which meant that on the non-public floors…2 thru 6 they hadn't finished decorating…no wall paper and only simple furnishings.  I wasn't surprised as we had known Richard's parents.  Melinda had taught their Sunday School class for a number of years.  They were salt of the earth kind of folks.  A frugality, even in a multimillion dollar building was part of their fabric.
Leaders are made, they are not born.  They are made by hard effort, which is the price which all of us must pay to achieve any goal that is worthwhile. – Coach Vince Lombardi as quoted by Dick Dauch in American Ride Introduction.
Our appointment time came and Dauch's special projects person came and met us and escorted to the executive suite.  A single elevator that went directly from the first floor to the seventh.  It opened upon a glass wall that looked out over neighborhood.  An impressive sight of green space…lots of it….something I hadn't expected to see.  As we learned later, in our lunch conversation Dauch had purchased I believe more than 300 parcels…mostly run down houses, bars and closed stores and leveled them.  He saved two churches and turned a blighted area into a large beautiful green space.
I remember as Richard introduced himself, when he got to me he said…"I know you…I know your family…after our time today I will tell you what I think of your family."  Well, that was a bit unsettling and as we moved from our welcome to the presentation and then to a tour of the facility and on to our late lunch I had to wonder exactly what he meant.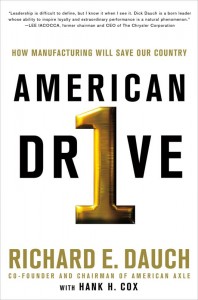 It was a good conversation.  It was an even better presentation.  Dauch's background through the corporate world was impressive and he was just getting to the point of thinking about how to leverage his charitable interests.  He had recently formed a family foundation and had just made his first million dollar gift…it was to Ashland University for the business school.  We had a great conversation.  The tour was impressive.  It was cool to see the rapport he had with the workers on shop floor.
He had taken an old moth-balled AC/DELCO plant and refurbished it.  American Axle was producing three times the output in a space that was 50% less than what had been there.  All of which came to clear understanding as we returned to lunch and to hear his response to our proposal.  We were going to ask for a lead gift in the low 7 figure range to which he said he wouldn't do.  But then explained what he would do…was to consider making a mid-sized 6 figure gift.  But that gift was contingent on this non-profit making a business plan…a forecast of how it would leverage their families investment.  That was better than the larger gift.  It was harder, but it was something that leveraged the whole campaign.
As I've read over the years about what American Axle has pushed through…even this morning reading the reviews of his 2012 released book, American Ride, he had many detractors who had harsh words for his kind of leadership.  Such criticism comes to a man when he tries to live out his convictions.  He was a person who thought beyond himself.  In the epilogue he mentions the weight he felt for a succession plan for American Axle.  That's forward thinking. And at age 71 we've lost a person who was just beginning to leverage larger things and purposes.
So back to the mention of "my family" when I first met Richard.  It wasn't till we were ready to leave that he said…So you want to know what I know about you?  You come from a good family.  Your parents were good to me and my brothers as we came home everyday after school and its good to see their presence in you…good character.   That was humbling.  And also underscored an earlier point in our shared conversation how "character" was the primary core value he lived by.
It was interesting when I talked with my parents after our visit that I learned about how the "Dauch boy's" would stop on their 4 mile walk home after school at my parent's home, which was halfway.  Our home was located behind one of my father's service station.  In fact the house was attached.  One story shared was how she asked my dad to move the refrigerator in front of the connecting door because those "boys" would empty the shelves.
Great memories…a great legacy…a life well lived, although too short.  A fun part of his legacy is being on the team at Chrysler that developed and manufactured the mini-van.