here's the lead to the nj sports article this morning…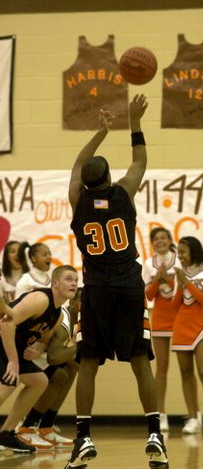 Boys hoops: Ashland snaps Mansfield Senior 40-game home winning streak
MANSFIELD — T.J. Lindsay and his Mansfield Senior teammates walked to the locker room in stunned silence. The partisan crowd headed for the exits in disbelief. The coronation ceremony many expected never materialized. The red-hot Ashland Arrows had other ideas. The Arrows outscored the Tygers 21-16 in the fourth quarter and made off with a shocking 58-54 victory on Senior Night at Pete Henry Gym. The loss was the first for Mansfield Senior since moving into the new building before the 2004-05 season. The Tygers (16-3, 11-3) are 40-1 all-time on their new floor. the jedster had 12 points. he had a three pointer. it was interesting during four of his shots, including the 3 pointer that i heard a fan from the other side tell him take the shot. that fan, who was wearing the other colors, did it several more times. another friend who came in town also told me after the game that the boy has more confidence. now if we can just see that confidence turn into an understanding of calling and purpose.