Note: This article originally appeared 10/17/12 on page 1 of the Ashland Times Gazette., written by Courtney Day T-G Staff Writer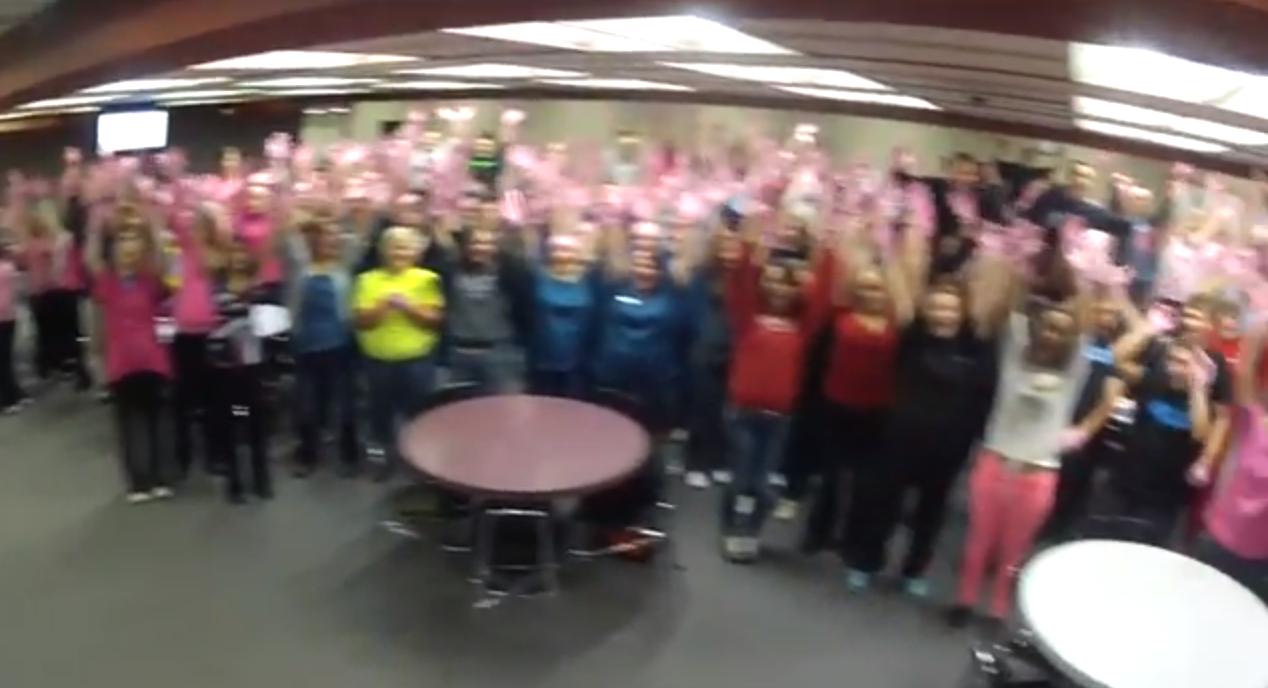 Students and staff at the Ashland County-West Holmes Career Center spent two weeks choreographing and practicing dance moves for their music video debut. Set to Katy Perry's "Part of Me," the three-and-a-half minute video was created to enter in Medline's Pink Glove Dance Competition, a national contest designed to raise breast cancer awareness.
The idea to enter the competition came last year when health tech instructor Melinda Roepke and sports science instructor Dana Paden decided to get the whole school involved in something meaningful that they could do together.
"We all know someone who has been affected by breast cancer or some other type of cancer," Roepke said.
The pair pitched their idea to school administrators, and with their support, got 10 of the career center's 15 lab classes involved in the project.
The center's school/community liaison, Deb Gilson, is a breast cancer survivor. In a short essay the school submitted with the video entry, Roepke wrote that the school was entering the contest in part for her.
"When I read the essay, I was just touched and overwhelmed and honored," Gilson said. "I think this is just awesome … It was fun to see all the students involved."
Gilson said that her experience with breast cancer five years ago created an opportunity to bond with students who had family and friends with cancer and even people she didn't know in the breast cancer community. She said the outpouring of support at that time was amazing.
The pink gloves students wear in the video hold a special meaning for Gilson.
"Pink has become one of my favorite colors because of the journey I went through," she said.
For the video, students in each program choreographed part of the dance and Roepke's husband, Tom, cut together footage to include some of each lab's choreography. Some of the students were reluctant to dance at first, Roepke said, but most were excited to support the cause.
"I thought it was really inspirational," health tech student Shannon Eyster said. "It's showing that there are people that do care and that one day they may find a cure."
Students enjoyed taking a few minutes out of lab time to discuss ideas, watch YouTube videos for inspiration and practice routines.
"It was a lot of fun — a lot of laughs," said Susanna Savage, an early childhood education student. "It's definitely something that we're not going to forget."
Participants are now telling their friends to watch and vote for the career center's video, which already has received more than 200 votes on the competition's website.
The three videos with the most votes from among more than 260 entries will receive donations in their name to a breast cancer charity of their choice. The career center has chosen the Breast Cancer Research Foundation as its designated charity.
The video can be found at http://pinkglovedance.com and votes will be taken until Nov. 2.  Follow the link and look for Ashland County Career
Courtney Day can be reached at 419-281-0581 ext. 243, or cday@times-gazette.com.