just a rambling or two at the end of a good day.  wanted
to share some pictures from our thanksgiving eve service at the ashland campus.  a creative time together to drive down the opportunity to get to know some new folks. its been two months since the launch and it was good to sit around a table.  at our table was a family we sort of know already but it was a blessing to spend some time together. all the children (and those at heart) were encouraged to draw with crayons on the table to share stories and words about what we're thankful for.  pastor bud shared some words from the original thanksgiving proclaimation from lincoln's pen in 1863. in the midst of our national messiness the closing sentence works to focus us…
and fervently implore the interposition of the Almighty Hand to heal the wounds of the nation and to restore it as soon as may be consistent with the Divine purposes to the full enjoyment of peace, harmony, tranquillity and Union.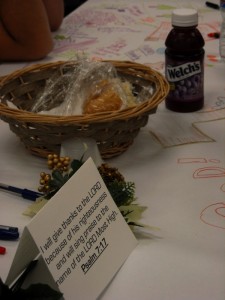 we completed our evening with a sharing in the eternal meal of thanksgiving at each table.  each table had a different focus verse from the bible, ours was [youversion] Psalm 7:17[/youversion].
i also found this article over at fox that seemed appropriate from father jonathan…
Our greatness as a nation has relied on our unrelenting hope. If we've been good at facing foes, if we've been unafraid of work, if we've had big ideas and the will to make them work, it's because our hearts have been accustomed to believing in things unseen.
its in those unseen things that we all need to hang on to…and truthfully the only power to offer us comfort is in God himself. so as come to the close of a day of national thanksgiving i pray that you'll be encouraged to place your faith, your worry and your fears in the only true God.
personally it was good today to spend time with our extended family. our home grew with amazing aromas today as rose baked her heart out…mincemeat & pumpkin pies and her amazing frosted cookies. our son the marine landed in the driveway home from camp lejuene around 0900…and our oldest made it in from delaware around 2. somewhere in the middle of that the son and i talked about his next steps and his future deployment abroad. a little later we loaded up the goodies and headed out to my parents home and enjoyed a great evening.  praying your thanksgiving day was equally filled with much goodness, blessings and unrelenting hope.