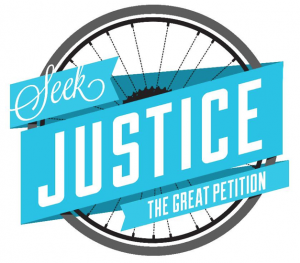 On September 20 you're invited to join with the Venture Expeditions Community  of more than 100 participants who toured more than 97,000 miles with Venture this summer.  Together the teams raised thousands of dollars and shared about the world's injustices.
On September 20 you're invited to collectively pray with us for the causes these tours supported – we're calling it "The Great Petition."
We're challenging you to spend the day fasting on Thursday, September 20.  Here's some things to get you thinking.
Statistics on Slavery and Sexual Abuse from IJM.org
There are an estimated 27 million slaves in the world today-more than any other time in history. (Bales, Disposable People)
Children below the age of 18 years represent between 40 to 50% of all forced labor victims. (ILO)
In a recent, wide-reaching survey conducted by the United Nations Office on Drugs and Crime, 40% of countries had not registered a single conviction against perpetrators of trafficking and slavery, which is crucial for deterrence. (UNODC)
In some countries, up to one third of adolescent girls report that their first sexual experience was forced. (World Health Organization)
At least one out of every three women in the world has been raped, beaten, coerced into sex or otherwise violently abuse in her lifetime. (U.N. Development Fund for Women)
An estimated one in five women will be a victim of rape or attempted rape in her lifetime. (U.N. Millennium Project)
The Story of Kunthy, a 14-year-old Trafficking Victim:
Scripture Passages in Which Prayer is Used to Petition God for Justice
Psalm 10
Isaiah 58
Acts  4: 24-31
1 Timothy 2: 1-5
Prayer Points
Pray for the victims of injustice, that they will be freed from oppression, healed, and that their renewed life will become a sign of hope for others.
Pray for the perpetrators, not only that they be brought to justice, but that their hearts are changed and their lives become a testimony of God's mercy and restoration.
Pray for the work of IJM & other organizations, that they will have strength, favor, endurance, grace & funding to continue seeking God's justice.
Pray for people in the US, that they will understand the needs, engage for the oppressed globally & locally, and recognize God as the ultimate restorer of justice.