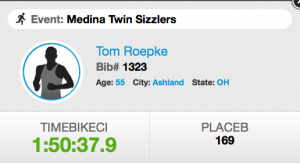 well…stepped out in a completely crazy way and did my first road race today.  thanks to the encouragement of my friend Terrence I climbed out of bed at 5:15am loaded the equipment and headed off with him and a few others from the Ashland Cycling Group.  I wasn't sure what to expect, but found the experience very much worth my effort.  Humbling on the one hand to be around so many excellent cyclists, but engaging as I risked to lean into the unknown and difficult.
My time wasn't the best as I encountered a flat near mile 22. I elected not to change the tube and use my CO2 to re-inflate, but the one new cartridge was empty.  That stop took about 6 minutes and then as i continued the tired deflated again.  Fortunately a fellow rider, James lent me his pump at my second stop where I changed the tube and began rolling again.  That cost me another 9 minutes.  My garmin showed an unofficial time of 1:35:44.  Which would have moved me up twenty or so in the finish.

The race brought back many memories from my earlier tours – Present Hope and IJM Freedom Tour. I wore the IJM Freedom Tour Seek Justice jersey that was a huge conversation starter with many.  Particularly, with the new friend who loaned me the pump.  It turns out he's engaged directly in the human trafficking fight through the judicial process.  Small world.
Grateful to a few folks at Venture that got me started in this crazy cycling journey, to my amazing bride who let's me chase these crazy opportunities, to my fellow cyclists in the Ashland Cycling Group and for the many amazing volunteers that made today's race safe.  I think this may be become a new 4th of July tradition.