We rolled into Tuscaloosa after a really enjoyable ride from columbus, ms.  the weather was sunny but cool and for the most part the roads were easy to travel, although the traffic was busier that preferred for the last 10 miles or so. we arrived around 3:30pm and had a easy nite.
sabbath is important. and especially on a venture like the Present:Hope Tour. It was good to sleep in and have a leisurely morning before joining in the services at our church host in tuscaloosa- first wesleyan. pastor joel and his bride traci were incredibly gracious. the time of worship was refreshing and restoring. the worship team is large…a small orchestra…offering an encouraging time of worship…something that all of us on the team found a blessing…and a time of restoration and healing.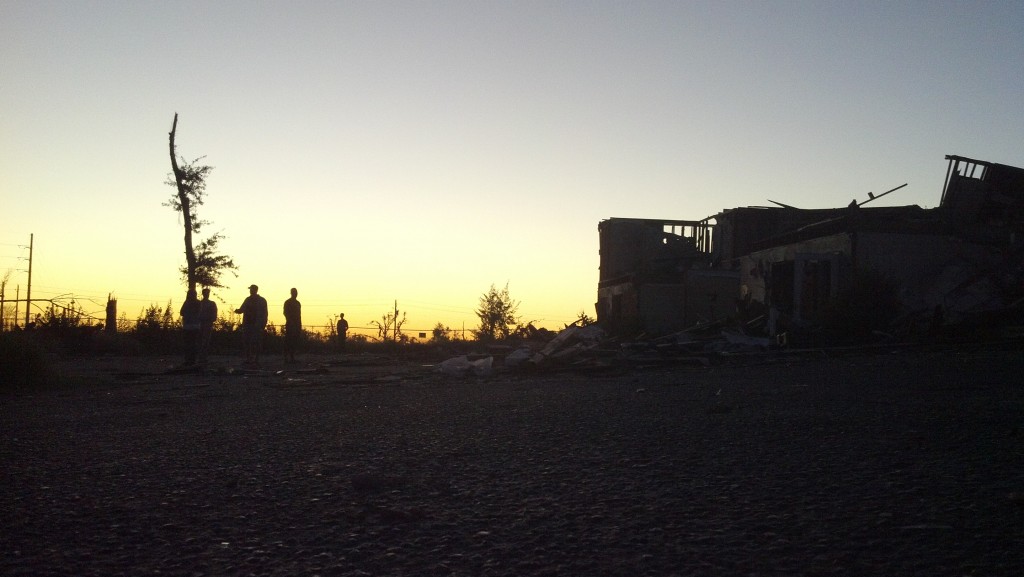 for lunch we were hosted at a picnic by Holy Cross Lutheran Church in a local park.  lots of great food and fellowship and some fun games.  played a version of corn hole (it had three holes in the board and used smalled bean bags), had an egg toss and tried to guess the number of buttons in a jar.  after the picnic we met back up with pastor joel who then gave us tour of the area showing us the damage left by the tornado.
its amazing how much clean up is still needed.  many buildings still covered with blue tarps.  it was sobering to drive and see the destruction. we ended our time at the Pizza Palace.  The Palace survived the tornado with only blown out windows.   as we were leaving we drove just behind the store into an area that was a housing complex.  possessions strewn about…many valuables just left on the ground.  clothing still hanging in closets…but roofs and walls gone.  again…its been more than 5 months.